THE ART OF TEACHING YOGA
200 hour Teacher Training with NICO LUCE
2- 28 SEPTEMBER 2019
Radiant Yoga has the pleasure to be able to collaborate with Nico Luce to bring you this outstanding learning opportunity to become a certified yoga teacher. This program offers students a 200-hour Hatha Vinyasa Yoga Teacher Training program certified by Yoga Alliance (RYS 200).  This training is a complete and progressive learning experience that deepens student's knowledge and builds a solid foundation for a working yoga teacher, in each of these fields of study:
anatomy & physiology
asana & sequencing
teaching methodology
pranayama & meditation
energetics
history & philosophy
sanskrit terminology & mantra
ethics and the business of yoga
With a scope both deep and wide, our training program fosters the growth of both the student and teacher in you through ample exploratory, integrated learning, and practice teaching.
In this training, you will learn to artfully create a sequence and teach asana skillfully. Our mission is to prepare you to develop safe and sensible yoga classes for all levels of studentship. You will learn to accurately observe students' bodies, assist them into optimally aligned asana through the use of words, basic hands-on adjustments, modifications and the use of props. An introduction to functional anatomy and physiology will form the basis for the study of asana and sequencing.
We believe a deeper understanding of yoga and how to teach asana comes from a consistent commitment to your personal practice, and your practice will become a well-spring of resources and inspiration for you as a teacher. As such, asana, bio-mechanics and sequencing are at the core of this training. With Asana Labs and Practice Teaching sessions every day, you will deepen your knowledge of the bio-mechanics of yoga and develop communication skills to transmit this knowledge to your own students.
SAMPLE DAY
8:30-9:00 Opening, Meditation & Pranayama
9:00-11:00 Dynamic Asana Practice
11:00-12:30 Anatomy, Philosophy and Energetics Lectures
12:30-14:00 Lunch Break
14:00-15:30 Elements of Teaching & Asana Lab
15:30-16:15 Practice Teaching
16:15-17:00 Restorative Closing Practice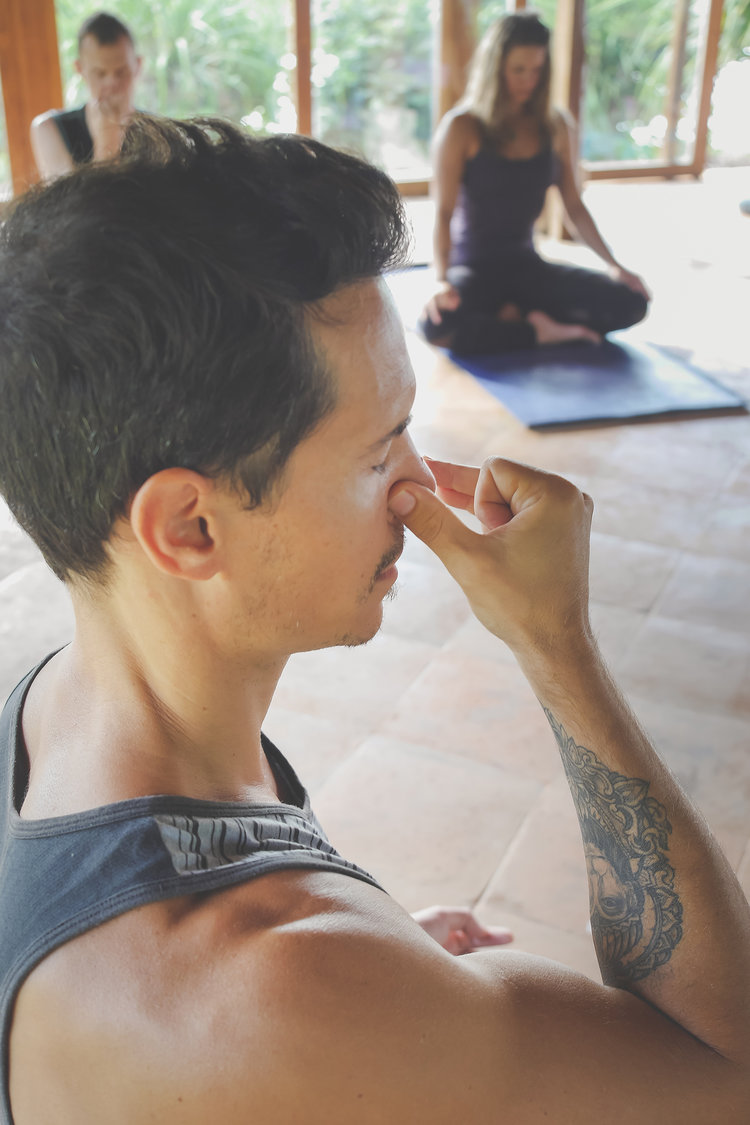 PREREQUISITES
The nature of this training schedule requires participants to fully immerse themselves in the study and practice yoga. Participants should be sincerely interested and ready to study earnestly. You need to be in good health and able to move free of pain. As such, we recommend a regular yoga practice of at least one year prior to this training. This training may be taken to deepen your own knowledge, with or without the intention to teach.
ABOUT NICO LUCE
As an avid story teller, philosopher, traveller and mover, Nico has spent much of his life in pursuit of the extra ordinary. From intrepid travels through India, acting stints and a successful yoga studio ownership, Nico has spent much of his life seeking a way to live a fully and vibrantly, and has learned to embrace this life one breath at a time.
Nico is a 500 hour certified yogi and international teacher who has been teaching yoga since 2003. His love for Eastern philosophy, spirituality and anatomy are all weaved skilfully into his teaching. His approach is eclectic, inspired by his studies with top senior teachers across multiple styles including Hatha, Anusara, Vinyasa, Yin and Power Yoga and Pilates.
By bringing to life the ancient teachings of yoga, Nico's goal is to take you on a powerful transformational journey which will have you seeking the answers to your heartfelt questions and challenging the way you view your life. Nico invites you to look inside, to never stop asking the questions, to be brave and remain open, and most importantly to believe in yourself.
TO FIND OUT MORE ABOUT NICO AND HIS 200HR YTT PROGRAM PLEASE VISIT HIS SITE HERE