200 hours Hatha Yoga Teacher Training Programme
with YOGI KAIVALYANANDA
1st Module: 11 – 21 JUNE 2020
2nd Module: 19- 29 SEPTEMBER
On this journey, you will be brought to the most profound depths of original and authentic yoga practice alongside Yogi Kaivalyananda. Nowadays, much of the Hatha Yoga taught in the West has lost some of its deeper and authentic roots which makes the practice diluted and less effective. On this programme, you will receive traditional and authentic teachings so that you are learning the most powerful possible tools Hatha Yoga has been offering for centuries.
You will be able to develop a deeper understanding and knowledge of yoga through this self-exploration and a daily commitment to your personal practice as this then becomes a fountain of resources and inspiration for the teacher within you. Therefore, this programme encourages the growth of both the student and teacher within you through led practice and your own teaching practice.
Thus, you may take this training with the intention to teach, or simply to deepen your own knowledge of yoga and give you the tools to work with on a daily basis in order to continue on the path towards greater well-being and ultimately self-realization.
Asana (postures), pranayama (working with the breath and energy), meditation and philosophy are all connected, and all will be emphasized in this training. Physical, mental and spiritual energy all play an equal part in creating a well-rounded practice and lifestyle, as well as your teaching style. This will help to create the greatest possible transformation for you.
Through this programme, you will gain more self-confidence, motivation, power and a sense of real purpose to your life. You will have the tools to understand life better and it will open the possibility to find your true Self through yoga. Yoga is a lifestyle. You will become immersed with the foundation, curiosity, and tools to continue developing your own practice, a process that will continue to grow and deepen for the rest of your life.
Yogi Kaivalyananda sincerely wishes that you will make the most of your experience from this programme and you yourself will inspire many others to walk the path of yoga.
PROGRAMME CONTENTS
Introduction to yoga
History of yoga, philosophy, components & principles
Asana
Asana types & categories
Asana analysis
Props and modifications
Dynamic and restorative practices
Different ways of working with "vinyasa"
Specialized classes (hip opening, backbending etc)
Pranayama
Meditation
Mantra chanting
Kriyas
Western anatomy & physiology
Practical application to hatha yoga
Eastern anatomy
Bandhas
Chakras
Mudras
Nadis
Prana
Koshas / shariras
Learning to Teach
The journey of a yoga teacher
Teaching methodology
Teaching considerations
Student / teacher / class dynamics
Class planning & sequencing
Adjustments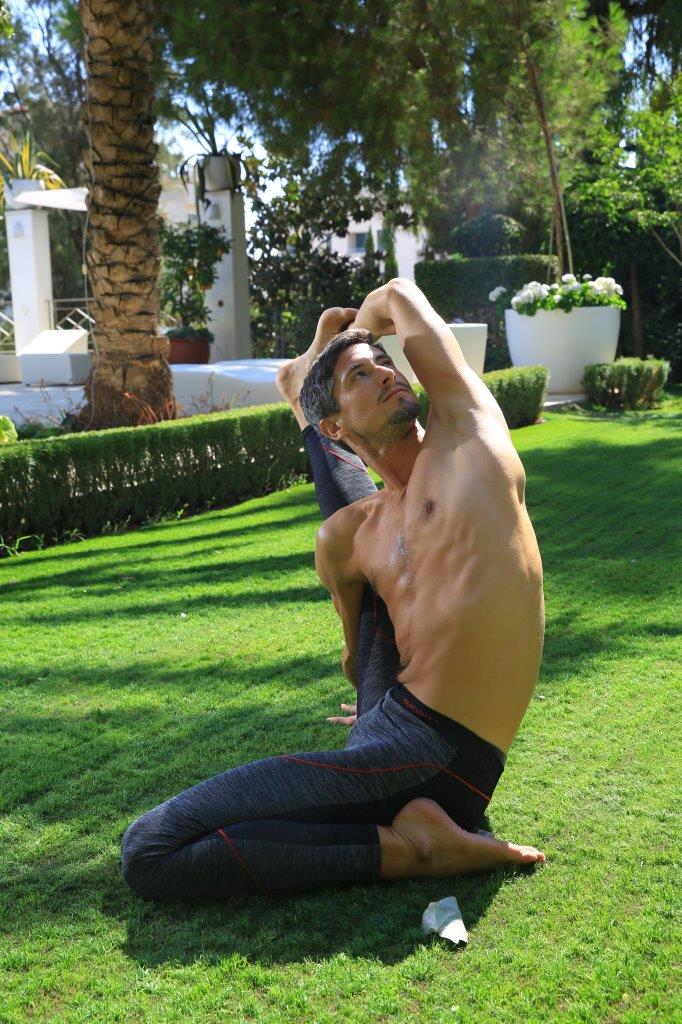 PREREQUISITES
You should be prepared for a sincere and genuine commitment to studying yoga and deepening of the practice of yoga.
You should be of sound health and able to move pain free.
It is recommended to have at least one year of yoga practice.
MEET YOUR TEACHER
Yogi Kaivalyananda is a yoga and healing master, originally from Scotland, who is passionate about helping others experience deep personal transformation through yoga and energy healing.
His journey in yoga began many years ago during a challenging period in which he suffered from debilitating back pain, amongst other problems. It was through dedicated practice of Hatha Yoga that he was able to cure himself.
He has taught Hatha Yoga, Ashtanga Vinyasa and Yin Yoga in various countries to the UN, embassies, international organizations, athletes, individuals and groups, and trains yoga teachers on training programmes in India, Jordan, Scotland and Spain. He is also one of the world's leading exponents of Prana Kriya Yoga.
TO FIND OUT MORE ABOUT YOGI KAIVALYANANDA AND HIS 200HR YTT PROGRAM PLEASE VISIT HIS SITE HERE
MODULE DATES
1st Module: 11 June – 21 June
2nd Module: 19 – 29 September
This training is run in two modules. 1st Module classes will run from Thursday June 11th till Sunday June 21st. 2nd Module classes will run from Saturday September 19th till Tuesday September 29th. No days off within the module dates.  The doors of the studio will open 20 minutes earlier, at around 7:10 am.
DAILY SCHEDULE (subject to change)
7.30 – 9.00 pranayama and meditation
9.00 – 10.30 asana
10.30 – 11.30 breakfast
11.30 – 14.00 eastern and western anatomy, philosophy, asana lab
14.00 – 15.00 lunch & rest
15.00 – 16.00 mantra, group discussion, Q&A, teaching methodology
16.00 – 17.00 teaching practice
17.00 – 18.00 asana practice – hip opening / backbending / restorative
LOCATION
The training will take place at our luminous studio, Radiant Yoga Marbella, an inspiring space with views to La Concha, Marbella's iconic mountain. There is a comfy lounge area where you can help yourself to tea and water, as well as rest and connect with other students.

Address //
Centro Comercial Local Nr. 1 & 2
Urb. Los Naranjos de Marbella
29660 Nueva Andalucia, Malaga
info@yoga-in-marbella.net | +34 639 845 185
FOOD & ACCOMMODATION
FOOD
You are welcome to bring food and eat it in the lounge area of the studio or terrace. There is a large supermarket below the studio as well as a café called 'Fresh Food' that offers healthy options such as salads, wraps and juices.
ACCOMMODATION
For accommodation option please see the following websites: www.booking.com or www.airbnb.com .
INVESTMENT
Early bird discount price of 2500 euros before 29 February. Regular price is 2700 euros.
In order to secure your space, a deposit of 500 euros is required. This deposit is not refundable under any circumstances. If you would like to avail the early bird discount opportunity, full payment of 2500 euros must be paid before 29 February 2020 (2000 if the 500 deposit was already made previously). After 29 February, the payment amount rises to 2700 euros which must be received before the beginning of the course (2200 if the 500 deposit was already made previously).
CONTACT
YOGI KAIVALYANANDA | kaivalyananda@outlook.com | WhatsApp +962 780 627 160
RADIANT YOGA STUDIO | info@yoga-in-marbella.net | +34 639 845 185