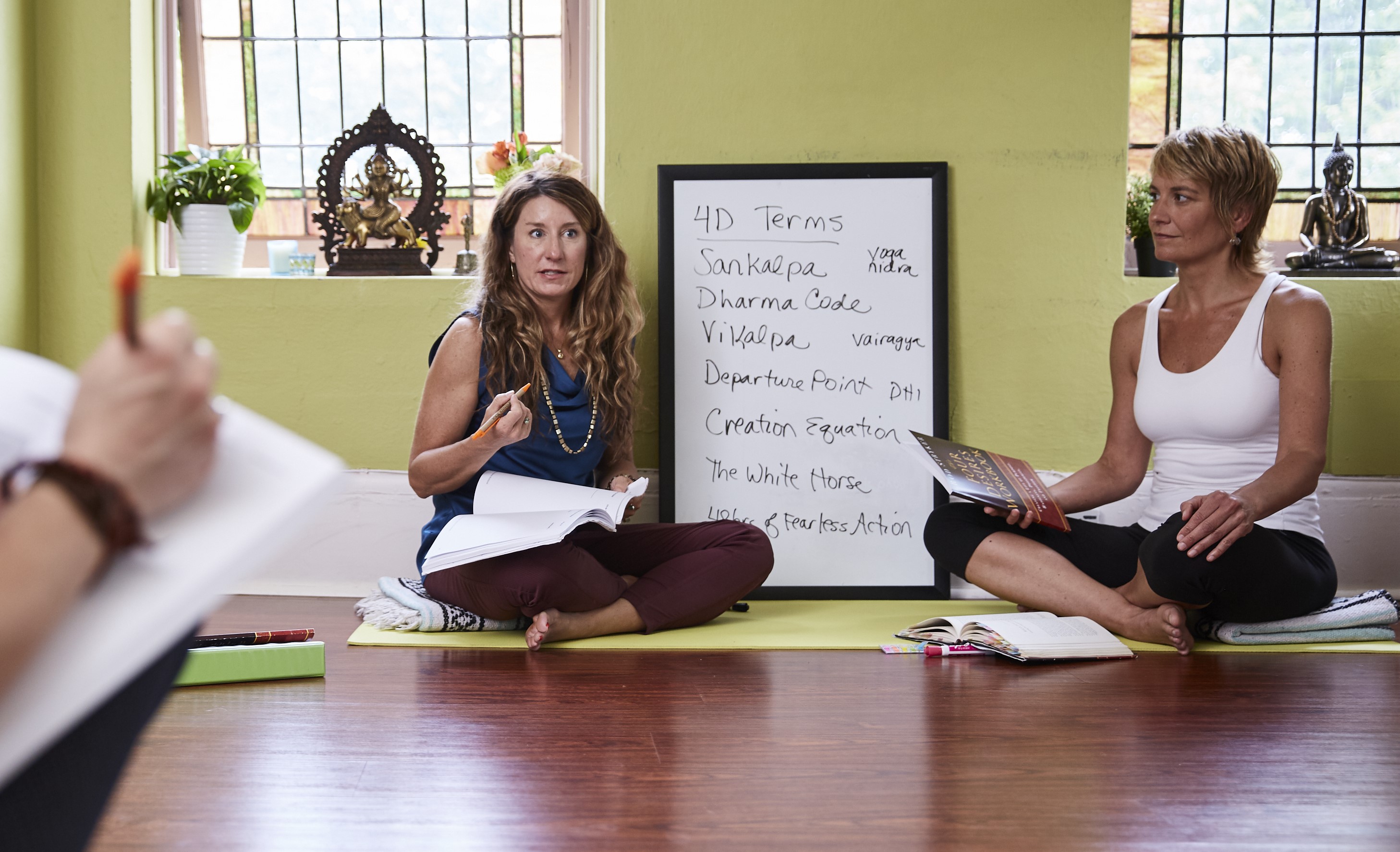 THE FOUR DESIRES: THE YOGA OF FULFILLMENT
with TANYA BOIGENZAHN
Certified Level I ParaYoga Teacher and Four Desires Trainer


May 28-31, 2020, Thursday – Sunday
Now *VIRTUAL* using ZOOM and open to all!

 
Livestream details will be sent out a day before the class series starts.
Cost includes both AUDIO and VIDEO recordings of the asana and meditation practices.
+ NEW! Bonus study (Video/Audio) material for several of the techniques used in daily practice worth over $75!
Thursday-Saturday: 12pm – 6pm (with 1/2 hour lunch)
Sunday 12pm – 4pm
The training will be hold in Central European Summer Time (GMT+2)
NEW

Regular price: $435
+ NEW! Bonus study (Video/Audio) material for several of the techniques used in daily practice worth over $75!
Unleash your vision and power to thrive, tap into the power of your soul, and become who you were meant to be. This training counts towards official ParaYoga® Level 1 Certification!
This training offers 25 CEs with Yoga Alliance, is endorsed by Yogarupa Rod Stryker and counts fully toward the
ParaYoga
Master Training program.
The Four Desires: The Yoga of Fulfillment guides you through a unique, step-by-step process to help identify your intentions, overcome self-defeating ideas and behaviors, and recognize your Soul's purpose.
Yoga is the path to find fulfillment in not one, but two realms: the spiritual and the worldly. Your soul longs to find the peace born from merging with your source. This training is about the yoga of life, helping you to rediscover meaning and purpose. The training is interactive, challenging, and focused on connecting to the inner self that can lead you toward lasting fulfillment and freedom. Discover more of our yoga classes in Marbella here.
The Four Desires is based on the ancient insight that your soul has four distinct desires…
Dharma—the desire for purpose, the drive to become who you are meant to be
Artha—the desire for the means (health, security, finances) to prosper materially
Kama—the desire for pleasures like intimacy, beauty, and love
Moksha—the desire for spiritual fulfillment and lasting freedom
The journey of learning to fulfill these four desires is how each of us creates our unique path to lasting happiness and, at the same time, how we each achieve our most vibrant, creative and meaningful contribution to the world. This is a course for anyone – those who have never done yoga, experienced yoga students and yoga teachers alike – that will teach you how to unlock your soul's potential and empower you to prosper in every area of your life.
Open to all interested students!  No prior yoga experience required.
Throughout the weekend, Certified Four Desires Trainer and ParaYoga Level III Teacher, Tanya Boigenzahn, will guide you through efficient and effective yoga and meditation practices, yoga nidra (complete physical, emotional and psychic relaxation), as well as yogic methods of discernment and self-reflection exercises to help you find answers to your life's most vital questions. She will also provide you with the tools to ensure that you stay on your soul's brightest path long after the workshop is over. In short, this training will empower you to fulfill your highest destiny.
Attend and learn tools to help:
Uncover your soul's unique purpose – Dharma – and begin to shape a life strategy so you live with a commanding sense of purpose, capacity and meaning!
Disentangle from your Vikalpa – the thought constructs borne from self-doubt and past experiences – that bind you to old patterns and keep you from creating a new future.
Establish a strong Sankalpa – an intention that aligns with Dharma and helps you move toward living your unique version of fulfillment.
"A human being is born to dive deep into the stream of life, find the hidden treasure and attain eternal fulfillment." – from the Upanishads
Key Topics We Will Cover:
Understand the role of desire in the spiritual life and uncover your life's unique purpose
Clarify your heart's missions of need, pleasure, purpose, and spirit, and increase your capacity to fulfill them
Access and heighten intuition, self-awareness, and omniscience
How to live more joyfully and intentionally, and access lasting peace
Understand and transform the beliefs, non-constructive patterns and tendencies that sabotage fulfillment
Learn the spiritual principles of shaping personal destiny
Transform, heal, and strengthen through systematic, deep relaxation, meditation, and new life-affirming intentions
Release the bondage of negative thinking as self-fulfilling prophecy, and overcome future challenges
Use any and all life-experiences as leverage to greater freedom and make your most creative and meaningful contribution to the world
Stay on your path to success and happiness
Reading List: 
The Four Desires: Creating a Life of Purpose, Happiness, Prosperity and Freedom by Rod Stryker. Please read Intro and Parts I – III prior to start of course. You must read the book in order to receive the Certificate of Completion as well as credit with ParaYoga.
Optional, but highly recommended – The Four Desires meditation CD available for purchase at Parayoga.com.  The Four Desires Workbook will be provided as part of the course.
Cost of the Weekend Includes:
+ NEW! Training includes bonus study material for several of the techniques chosen to use in daily practice worth $75+!
MP3s of the Practices of the training, including short asana, yoga nidra, and meditation practices
Bonus MP3s of Activation of Shakti Yoga Nidra Practice
After the weekend, Tanya will also organize a group 20 day check in and a 40 day check in via Zoom to keep you on track with your Dharma Codes.
40 day reminder for Sankalpa Activation
Four Desires Workbook (you'll need to purchase The Four Desires book separately)
To earn your ParaYoga@ Level 1 Certification training credit:
Attend all scheduled classes
Read The Four Desires book
After the weekend, you will be given a link to submit your codes to the ParaYoga office – Yogarupa Rod Stryker reviews each set of codes
The Four Desires is a best-selling book, a workbook and meditation CD, by Yogarupa Rod Stryker, but it all began and continues to be a powerful and truly life-changing process led by himself and his Certified Four Desires Trainers throughout the world. A course like no other, applying the most profound insights into happiness and lasting fulfillment, the Four Desires process will transform you and your life – forever.
TANYA BOIGENZAHN
E-RYT 500, RTT, AYS, CHTP, YACEP, C-IAYT & Reiki Master
Certified ParaYoga® Level III Teacher & Four Desires Trainer
Owner/Director – Devanadi School of Yoga & Wellness + Thai Yoga Bodywork, LLC
Email: tanyaboigenzahn@gmail.com
Sites:   www.tanyaboigenzahn.com
Facebook/IG/Twitter: @tanyaboigenzahn
Tanya Boigenzahn is the Founder and Executive Director of Devanadi School of Yoga & Wellness as well as Thai Yoga Bodywork, LLC, empowering people with authentic and time-tested tools and teachings to help reach their highest potential. With 26 years on the mat, she is a multi-certified yoga teacher honored to be one of the first ParaYoga® Level III Teachers and Certified Four Desires Trainers in the world recognized by her teacher, Yogarupa Rod Stryker. Tanya also continues to study Sri Vidya and Vedic sciences regularly with Yogarupa's teacher, Pandit Rajmani Tigunait, as well as Yoga Therapy and Ayurveda with Indu Arora, and others.
As a Certified Yoga Therapist, Ayurvedic Yoga Specialist, Thai Yoga Bodywork Therapist, Certified Healing Touch Practitioner and Reiki Master/Instructor, Tanya uses this experience to help deepen students' knowledge of the traditional practices of healing and wholeness. She is an Instructor and Executive Council member with Thai Healing Alliance (THAI), and offers one of the only multi-level certification programs to learn the art of Thai Yoga Bodywork outside of Thailand.
Tanya was selected by Origin Magazine as one of the top 100 Yogis Changing the World in their "Powerful Leaders" issue. She is also affiliated with the Himalayan Institute and is a featured teacher on www.YogaInternational.com.
Annually, she offers intensives and retreats to Thailand, India, Costa Rica and other areas in the world with rich healing traditions to go deeper and study with masters. With travel as a passion, you will often find her chanting with Buddhist monks, throwing a baseball with her son on the beach, or discovering a long lost healing technique when abroad.
When: 28-31 May, 2020
Time:  Thursday-Saturday 12-6pm (with 1.5 hour lunch) & Sunday 12-4pm
Spain Time: Central European Summer Time (GMT+2)
Location: Radiant Yoga Marbella, Marbella, Spain
Regular price: €400